21 Jul 2019
CENTIEL Extends PremiumTower Range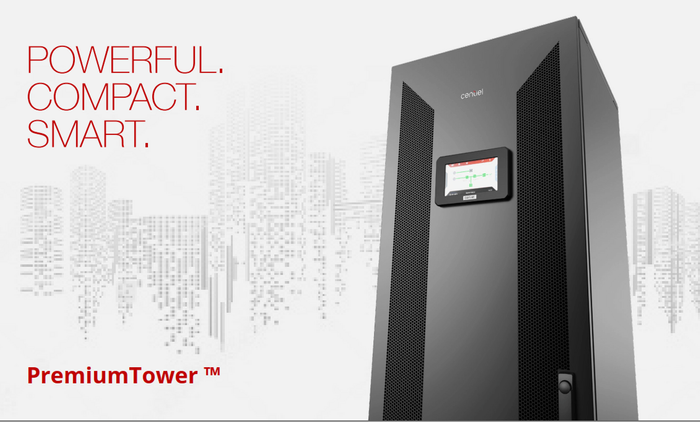 When floor space is a premium, there is now no need to compromise on performance
Leading UPS manufacturer, CENTIEL has announced the extension of its PremiumTower range. PremiumTower is a three-phase, online double-conversion UPS, designed to maximise efficiency and minimise footprint and is now available in a range of sizes from: 10-250 kW. PremiumTower provides an excellent solution for small and medium data centres, comms rooms, IT networks and any mission-critical application which demands high availability and unbeatable energy efficiency.
Gerardo Lecuona, co-founder, and global sales director, CENTIEL, confirms: "PremiumTower is another high-quality solution from the same R&D team that brought the industry CumulusPower, CENTIEL's class-leading modular UPS system. PremiumTower has the same Swiss build quality and innovative technology seen in CumulusPower but comes in a lower cost, stand-alone version ideally suited to applications where minimizing Total Cost of Ownership is a significant factor.
"When floor space is a premium, there is now no need to compromise on performance," continues Lecuona. "PremiumTower provides up to 415 kW per square meter of energy, while delivering efficient and uncompromised availability. The standalone cabinet can be placed against the wall as only front access is needed for services, saving space and making maintenance straightforward.
"PremiumTower can be paralleled to provide either additional power capacity or redundancy." continues Lecuona. "In addition, its best-in-class, on-line operating efficiency of 96.6% in double conversion mode minimizes running costs and reduces the Total Cost of Ownership.
"Internal batteries are available for 10-60kW versions, reducing the footprint to ensure it can fit into even the smallest comms room. Flexibility in the number of battery blocks (20 to 50 x 12V blocks), allows system designers to optimise costs versus autonomy time without power derating and enables the upgrade of the UPS without changing the battery installation.
"Advanced monitoring through Ethernet adaptors, dry contacts, and serial ports allows for remote real-time control and early detection of alarms for fast reaction in case of power outages or reduced battery autonomy. PremiumTower is capable of up to 120% continuous overload ensuring load protection even on marginally rated supplies."
Lecuona concludes: "As a trusted manufacturer of quality UPS solutions, we are now delighted to introduce the full range of PremiumTower to our valued client base across the globe. This extension to the product range also offers additional flexibility and ensures that systems can be right-sized to suit any business-critical application."