20 Sep 2023
Chubb unveils new fire and security solutions for data centres at Data Centre World Asia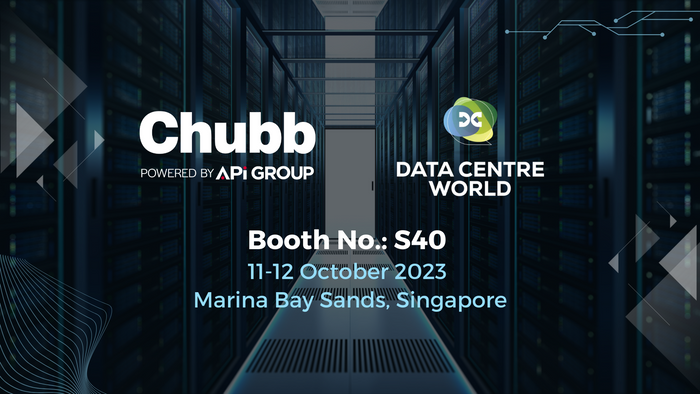 In returning to the event for a second consecutive year, Chubb demonstrates its strong commitment to delivering innovative technology and comprehensive services to customers and prospects. Visitors to booth S40 will have the opportunity to explore and interact with Chubb's latest tailored solutions, designed to address the unique challenges and opportunities within the dynamic data centre sector in Asia.
Solutions displayed on a world stage for the first time include:
Fire Alarm Notification Application: The new Fire Alarm Notification Application, by Chubb, has been built to enhance visibility and convenience for facilities managers. It makes it easy to maintain real-time connections with installed fire alarm systems, and handles fire alarms in a smarter way, anytime, from anywhere.
Chubb visiON+ Studio: A new, integration platform that simplifies the monitoring of vital operational components including fire and security systems, environment and computer rack monitoring, visitor management with location tracking, smart lockers, emergency alarms. It provides one-stop convenience for operators looking to enhance safety, protection, minimise disruption and optimise efficiency.
"We are thrilled to return to the Data Centre World Asia for the second year in a row, especially after the success of last year's show," said King-Tao Yiu, Vice President, APAC, Chubb Fire & Security. "Data centres play a crucial role in our digital ecosystem and the data centre sector in Asia is growing at an exceptional pace. Our commitment to innovation and unparalleled customer service drives us to bring smarter solutions that safeguard operations, protect valuable assets, and ensure the continuity of critical services."
Data Centre World Asia takes place from October 11th to 12th 2023 at Marina Bay Sands in Singapore and gathers industry professionals, experts, and key stakeholders from across the Asian data centre sector.
Visitors to Chubb at booth S40 will discover how its innovative fire and security solutions can enhance safety, protection and operational efficiency of data centres in this rapidly expanding sector.
Register for a free visitor ticket:
https://www.gevme.com/DCWA23/?promo=Exhibitor_Chubb
sign up for a meeting and demonstration with a Chubb expert:
https://forms.office.com/pages/responsepage.aspx?id=wl-ZR1YfzkeRN6h8rvS-dBdzudgjjrBCigQlpK1TjOdUOFRFT0dWQ1daTzFVNTZYMUNVQ0Y1WU9CVy4u&web=1&wdLOR=c922F3C3D-396F-4DF6-BA1F-FE6B29535D33
Visit the Chubb Fire & Security Asia LinkedIn page for updates: www.chubbfs.com