04 Jul 2018
Congratulations on the first automatic assembly line of PDU in the world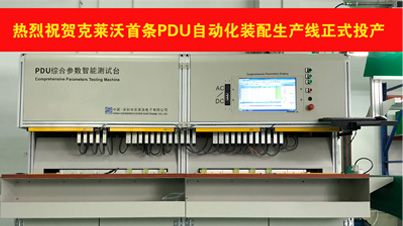 July 3,2018, the world's first PDU automatic assembly line in Shenzhen Klavo Electronics Co. , Ltd. successfully developed and held a grand launch ceremony.
Chairman, General Manager, Zhang Jie, and some members of the core management team attended the launch ceremony and cut the ribbon. With the launch order issued by deputy general manager, Wu Meiwen, the world's first PDU automatic assembly line officially began production, the first batch of products will be sent to a national key data center construction project.
The clever PDU automatic assembly line is composed of seven parts: Automatic Assembly of output socket, automatic welding of intelligent positioning, automatic screw making of precise positioning, automatic transmission of products, intelligent test-bed of PDU comprehensive parameters, laser engraving, automatic packing line and so on. The PDU automatic production line is independently developed and designed by the Clever technical team, using the latest industrial control software, sensor technology, precision positioning technology, automatic transmission device, intelligent test of comprehensive parameters and other innovative technologies, the entire production process is basically automated and intelligent, it is an important milestone for Clever PDU to realize precision and intelligent manufacturing.
PDU is an indispensable key equipment of intelligent and safe power distribution system in data center, and its reliability and stability are directly related to the security of IT equipment and even the whole data center, the accuracy of test results and the integrity of test data will directly affect the authenticity and reliability of PDU product quality. Therefore, the test requirements for PDU product performance and quality index are very strict, how to solve this technical problem in PDU production and test process has long been a major concern of the global industry.
The successful development and commissioning of Clever PDU automatic assembly line can effectively ensure the consistency and stability of PDU production, it can further ensure product quality, improve production efficiency, reduce labor costs, shorten order delivery period and complete delivery quickly, this pair of Clervaux PDU products, which feature Modular rocket, custom manufacturing, standardized design, and fast delivery, more to provide customers with more satisfactory service, to create more value for customers to increase a stronger market competitiveness, for the rapid development of the data center construction industry to make greater contributions.
It is particularly worth mentioning that the successful development of the PDU intelligent test-bed for comprehensive parameters has completely broken the operating habit of manual test for comprehensive parameters of PDU, eliminating the 100% missing and erroneous test that may occur in the process of PDU product test, the operator edits the test program in real time according to the different management authority granted and according to the different specifications of PDU product, aUTOMATIC COMPLETION OF PDU product resistance, insulation resistance, grounding resistance, output polarity, module polarity, load capacity, performance display and other comprehensive performance parameters of accurate testing, all test data and test results are stored in the background database, which provides valuable technical data for continuously improving product design and improving product quality, it provides a reliable and accurate basis for product production quality and quality tracking service, and ensures the reliable and stable operation of intelligent power distribution in data center.
In the field of data center power distribution, Clervaux has always insisted on customer-oriented, to provide customers with value and more satisfactory service purposes. Clever PDU automatic assembly line changes the production and manufacturing mode of PDU, speeds up the technology transformation and upgrading of traditional manufacturing industry, and makes a new contribution to the technical transformation and innovative development of Global PDU industry.