22 Aug 2022
Danfoss and NOVENCO® Building & Industry at Data Centre World Asia: joining forces for greener data centres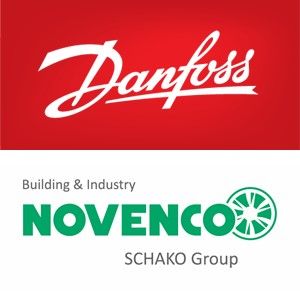 Singapore – Danfoss and NOVENCO® Building & Industry have recently agreed on a joint-exhibition in the 8th edition of Data Centre World, Singapore, Asia's leading data centre event which is held on 12th - 13th October 2022 at Marina Bay Sands, Singapore with the ambition to power the green data journey together.
Data centres are under increasing pressure to reduce their climate impact, all the while uptime and scalability are ever more critical factors. Installing better servers and using renewable energy will get only that far. To truly move data centres into the future, optimizing its infrastructure is inevitable; from cooling over power distribution to heat recovery and fire safety.
As sustainability efforts are gaining traction, Danfoss and NOVENCO® Building & Industry are committed to deliver design and tailored solutions to improve Power Usage Effectiveness (PUE), Water Usage Effectiveness (WUE) and Energy Reuse Effectiveness (ERE) in data centres.
In this Asia's largest Data Centre event, experts from Danfoss' and NOVENCO® Building & Industry are excited to engage with clienteles from Data Centre industry, discussing about opportunities and requirements while showcasing energy efficient solutions such as Danfoss EC+ Concept (including VLT® HVAC Drive FC 102 and NOVENCO ZerAx® axial fans), couplings and AB-QM Pressure Independent Control Valves (PICV) among others.
The unmatched portfolio and application expertise from Danfoss and NOVENCO® Building & Industry can help the industry accelerate the pace of transformation to greener data centres.
The joint-exhibition between Danfoss and NOVENCO® Building & Industry is an example of how companies can collaborate to support operators in their journey towards sustainable and greener data centres via a smart combination of technologies from grid to rack in ensuring reliability, energy efficiency, safety and flexibility.
For further information please contact:
Katarzyna Toepler, Head of Marketing, NOVENCO® Building & Industry
Email: KCZ@novenco-building.com
Teddy Ooi, Marketing Communications Manager, Danfoss Asia Pacific
Email: teddy.ooi@danfoss.com
About NOVENCO® Building & Industry:
NOVENCO® Building & Industry stretches its roots back to 1947 and has over the years evolved into a renowned worldwide leader in design, development and manufacture of ventilation products and systems on the technological forefront with regards to performance and durability. We provide the largest energy savings and most energy-efficient solutions within such diverse areas as industry and agriculture, air handling units, carpark facilities, data centres, windmills, tunnels, fire and safety systems and much more. The NOVENCO headquarters is in Denmark with a subsidiary in the Netherlands and offices in United Kingdom, Germany, India, Singapore and United States.
www.novenco-building.com

About Danfoss:
Danfoss engineers solutions that increase machine productivity, reduce emissions, lower energy consumption, and enable electrification. Our solutions are used in such areas as refrigeration, air conditioning, heating, power conversion, motor control, industrial machinery, automotive, marine, and off- and on-highway equipment. We also provide solutions for renewable energy, such as solar and wind power, as well as district-energy infrastructure for cities. Our innovative engineering dates back to 1933. Danfoss is family-owned, employing more than 40,000 people, serving customers in more than 100 countries through a global footprint of 95 factories.
https://www.danfoss.com/