26 Aug 2021
DEA71 and DEB71: the MRCD type Installation Protection Devices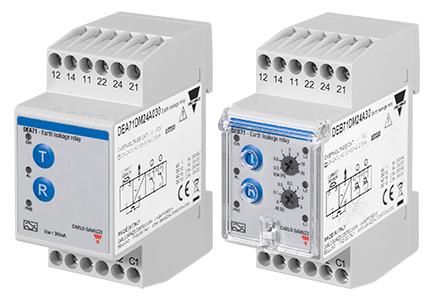 How to prevent injury? In the wide range of protection devices, there is a family of units called RCD Residual Current Device. The purpose of an RCD is to prevent threat to life by protecting against the risks of electrocution and fire caused by earth faults.
How to detect dangerous earth leakage current? In industrial and commercial applications due to specific requirements, the device used is called an MRCD Modular Residual Current Device. More specifically, it is an earth leakage current relay which can detect by means of an external core balance transformer the earth leakage current.
How to avoid power supply interruption? Both RCDs and MRCDs are prone to nuisance trips from normal harmless earth leakage. Those are due to external factors like: high current lightning or if the installation's earth rod is placed close to a neighbouring earth rod on a building. A nuisance trip would affect the availability of power supply, which for example in a data centre, because of its nature, is not allowed.
The Carlo Gavazzi solution is made of two models: DEA71 and DEB71, combined with CTG, our core balance transformer family. Our MRCD comply to the IEC60947-2 so to avoid nuisance trips and fulfils the "A" type operating characteristic so to work also in case of presence or absence of dc component residual currents.
DEA71 main features:
Fixed current setting: 30mA or 300mA
2 relay outputs for warning and alarm
Input for remote Reset / Test
DEB71 main features:
Adjustable setting from 30mA to 5A
Adjustable delay up to 5s
Leakage level LED bar
2 relay outputs for warning and alarm
Input for remote Reset / Test
CTG, core balance transformer main features:
Easy installation
High accuracy and sensitivity
From 35mm to 210mm hole size
---
For further information:
APAC Headquarters - Carlo Gavazzi Automation Singapore Pte Ltd.
61 Tai Seng Avenue #05-06 Print Media Hub @ Paya Lebar iPark Singapore 534167
Tel: +65 67 466 990 Fax: +65 67 461 980 info@carlogavazzi.com.sg www.gavazziautomation.com