21 Sep 2023
Explore Danfoss sustainable cooling solutions at Data Centre World Asia 2023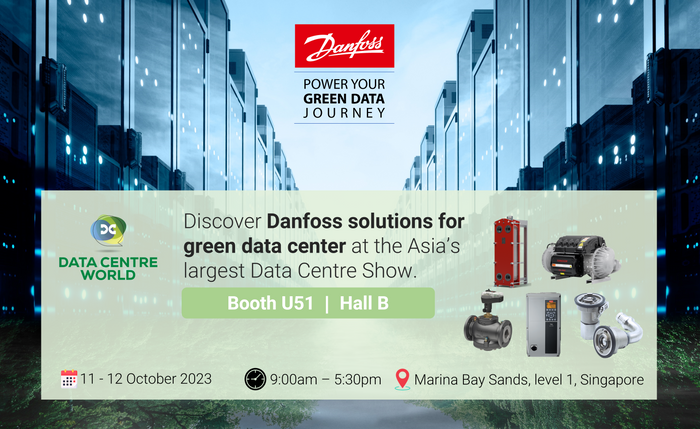 Danfoss is ready to host data centre owners and engineers from all over the world at Data Centre World Asia, the leading data centre event in Asia to present its innovative energy efficiency solutions for sustainable data centres. The event will be held on 11–12 October 2023 at Marina Bay Sands, Singapore.
The data centre industry has been growing rapidly driven by increasing urban digital users, increasing demand for data storage and processing, shift to cloud computing and virtualization, that in turn requires more energy and water to run data centre facilities. Most of the energy is being utilized to power the servers, but they in turn produce heat and need to be cooled.
The era of sustainable data centres has begun. More IT decision-makers are including sustainability and energy efficiency in their new infrastructure investment. To reduce data centres' carbon footprint, a combination of innovation and technology especially in the cooling infrastructure is required. For decades, Danfoss has been spearheading in developing and deploying sustainable technologies applicable from grid to rack, including cooling, fire safety, power distribution and heat recovery to cool your data centres efficiently.
During the exhibition, Chinmay Kulkarni, Product Manager from Danfoss Power Solutions – Asia Pacific will share his insights on emerging cooling infrastructures for data centres which includes direct thermal management methods. He will be discussing the potential benefits such as improved PUE and reduced total cost of ownership (TCO) over the lifecycle. Liquid cooling promises to help address many of the challenges especially as computing densities increases. Higher density doesn't mean higher TCO. However, is the industry ready to transform? Listen to what Chinmay has to share in the Critical Infrastructure Theatre on 11 October, Wednesday, from 13:45 – 14:05.
In this year's Data Centre World Asia, Danfoss will be displaying a server rack to showcase its fluid conveyance solution for liquid cooling, the Turbocor® compressor, the world's first oil-free magnetic bearing compressor for the HVAC industry, and VLT® HVAC Drive FC 102 variable speed drive, aiming to help the Data Centre owners and operations team to improve data centre's safety, reliability and energy efficiency.
Visit the Danfoss' booth at U51, Hall F, Level 1 and meet the Danfoss' data centre experts, they are ready to assist you with their vast knowledge and experience from working in various data centre projects around the world. Ask them how you can minimize your data centre's Usage Effectiveness indicis with Turbocor® oil-free compressors, heat exchangers, valves, Danfoss intelligent AC drives, quick-disconnect couplings and the EC+ concept, which is an efficient ventilation system that uses Danfoss variable frequency drives and NOVENCO's axial fans.
For further information please contact:
Teddy Ooi, Marketing Communications Manager, Danfoss Asia Pacific
Email: teddy.ooi@danfoss.com

About Danfoss:
Danfoss engineers solutions that increase machine productivity, reduce emissions, lower energy consumption, and enable electrification. Our solutions are used in such areas as refrigeration, air conditioning, heating, power conversion, motor control, industrial machinery, automotive, marine, and off- and on-highway equipment. We also provide solutions for renewable energy, such as solar and wind power, as well as district-energy infrastructure for cities. Our innovative engineering dates back to 1933. Danfoss is family-owned, employing more than 40,000 people, serving customers in more than 100 countries through a global footprint of 95 factories.
https://www.danfoss.com/