12 Sep 2023
GCS & EN+ sign MOU to Develop Next Generation of Modular Enclosure Solutions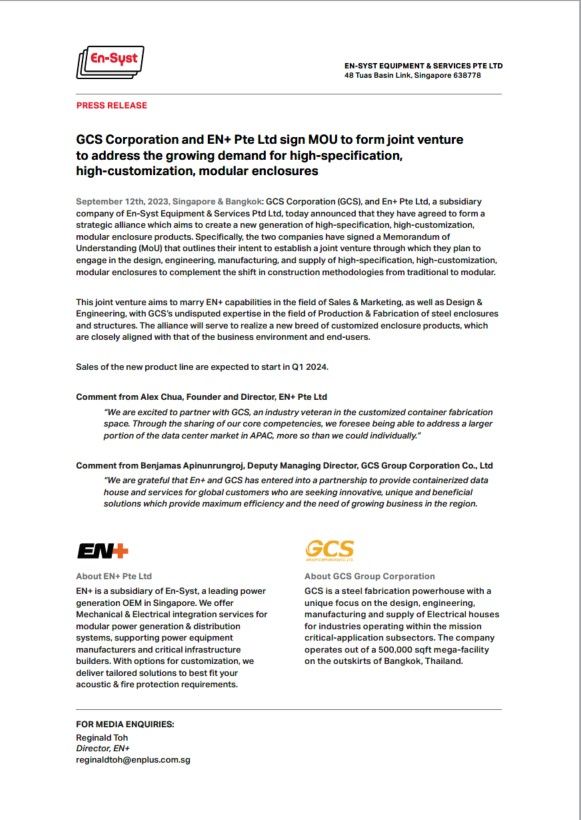 September 6th, 2023, Singapore & Bangkok: GCS Corporation (GCS), and En+ Pte Ltd, a subsidiary company of En-Syst Equipment & Services Ptd Ltd, today announced that they have agreed to form a strategic alliance which aims to create a new generation of high-specification, high-customization, modular enclosure products. Specifically, the two companies have signed a Memorandum of Understanding (MoU) that outlines their intent to establish a joint venture through which they plan to engage in the design, engineering, manufacturing, and supply of high-specification, high-customization, modular enclosures to complement the shift in construction methodologies from traditional to modular.
This joint venture aims to marry EN+ capabilities in the field of Sales & Marketing, as well as Design & Engineering, with GCS's undisputed expertise in the field of Production & Fabrication of steel enclosures and structures. The alliance will serve to realize a new breed of customized enclosure products, which are closely aligned with that of the business environment and end-users.
Sales of the new product line are expected to start in Q1 2024.
Comment from Alex Chua, Founder and Director, EN+ Pte Ltd
"We are excited to partner with GCS, an industry veteran in the customized container fabrication space. Through the sharing of our core competencies, we foresee being able to address a larger portion of the data center market in APAC, more so than we could individually.
Comment from Benjamas Apinunrungroj, Deputy Managing Director, GCS Group Corporation Co., Ltd
"We are grateful that En+ and GCS has entered into a partnership to provide containerized data house and services for global customers who are seeking innovative, unique and beneficial solutions which provide maximum efficiency and the need of growing business in the region.
About EN+ Pte Ltd
EN+ is a subsidiary of En-Syst, a leading power generation OEM in Singapore. We offer Mechanical & Electrical integration services for modular power generation & distribution systems, supporting power equipment manufacturers and critical infrastructure builders. With options for customization, we deliver tailored solutions to best fit your acoustic & fire protection requirements.
About GCS Group Corporation
GCS is a steel fabrication powerhouse with a unique focus on the design, engineering, manufacturing and supply of Electrical houses for industries operating within the mission critical-application subsectors. The company operates out of a 500,000 sqft mega-facility on the outskirts of Bangkok, Thailand.