01 Sep 2023
GICG showcases its portfolio of Cybersecurity services at Data Centre World Asia 2023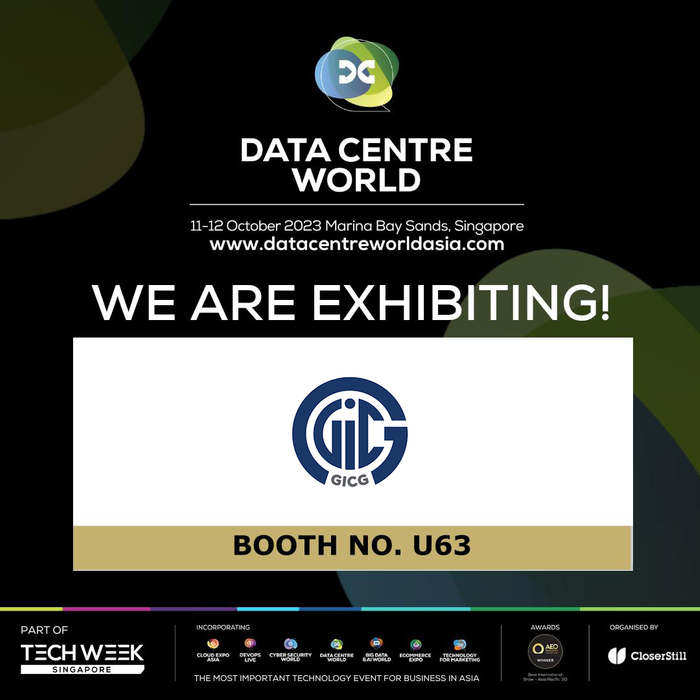 Our team of experts will be onsite to share our cybersecurity solutions and services, including:
Cyber essentials mark: Protect enterprises against the most common cyber-attacks and threats.
Cyber trust mark: A cybersecurity certification for organisations with more extensive digitalised business operations.
Data protection trustmark certification (DPTM): Demonstrate accountable data protection practices.
Cyber Security Code Of Practice (CCOP) Compliance Audit: Safeguard organisations' critical information infrastructure.
ISO 27001 Information Security Management System: Manage and protect organisations' information assets.
ISO/IEC 27017:2015 Information technology — Security techniques: Code of practice for information security controls based on ISO/IEC 27002 for cloud services.
ISO/IEC 27018:2019 Information technology — Security techniques: Code of practice for protection of personally identifiable information (PII) in public clouds acting as PII processors.
ISO 27701 Privacy Information Management System: Help organisations comply with privacy laws around the world.
"We are delighted to be part of Data Centre World Asia 2023. The participation reflects our ongoing commitment to innovation, excellence, and collaboration within the data center industry." said Lydia Annie Ho, Marketing Manager, GICG. "This event is a fantastic opportunity for us to engage with industry leaders, share our expertise, and showcase our cybersecurity solutions."
To learn more about GICG and our participation at Data Centre World Asia 2023, please visit our website at www.gicgrp.com/sg/ or contact us at marketing@gicgrp.com.
The 2023 edition of DCW will take place from 11 – 12 October at Marina Bay Sands, Singapore.
Please visit us at our booth (U63), where our Cyber security experts will be onsite to discuss your cybersecurity certification needs and provide exceptional expertise and experience.
About GICG
GICG is a global conformity assessment body providing a comprehensive range of solutions in testing, inspection and certification. With a track record of excellence and a dedication to enable clients to protect brands and mitigate risk through our reliable, dependable, responsive and quality assurance service across five continents, Our areas of expertise include quality, environment, occupational health and safety, food safety, information security, social accountability, sustainability and more.
To learn more about GICG, please visit www.gicgrp.com.
For media inquiries or interview requests, please contact:
Lydia Annie Ho
Marketing Manager
Email: lydiaannie.ho@gicgrp.com
Follow us on social media:
Facebook: https://www.facebook.com/GICgrp
LinkedIn: https://www.linkedin.com/company/gic-group-pte-ltd/
Related Links
https://gicgrp.com/sg/cybersecurity-services/