26 Aug 2021
High density monitoring solution for "Bus-duct" based Data Centres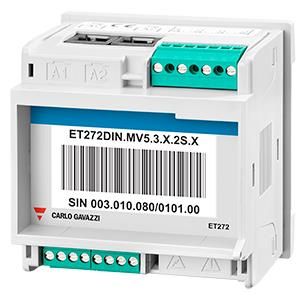 The control of all the electrical parameters in critical load applications, such as data centres, requires a detailed monitoring system able to reach every single branch of the distribution system. In these applications the server rack cabinets are usually supplied by PDUs (Power Distribution Units), where different Carlo Gavazzi solutions can already be used (EM271, EM280, WM50), while power distribution based on power bus-bar trunking systems ("Bus-duct" running on the ceiling) is more and more used nowadays.
ET272 is the answer to the monitoring needs for Data Centres based on a "Bus-duct" concept to supply the IT racks. This solution dramatically reduces both commissioning time and installation costs. In combination with the Carlo Gavazzi Energy Management web-server VMU-C EM, the ET272 provides an innovative and exclusive self-addressing solution in data centres applications, also when a high number of meters are installed and need to be quickly configured. The VMU-C EM can set-up, manage and monitor the data from up to 80 ET272s. ET272 energy transducer can be connected in a fast and error-free way to the load under control by means of split-core miniature current transformer sets, via RJ12 connectors. The ET272 is equipped with a Modbus RTU port.
Common main technical features:
Patented meter, 4-DIN modules for DIN-rail mounting
Up to 415 VLL ac (rated) and TCD-based current measuring inputs
Current measurement by two basic TCD units with quick RJ11 plugs(see TCD M series)
Quick configuration by automatic recognition of TCD units
Self addressing in a Modbus system (in combination with VMU-C)
2*3-phase energy analysers with sum function in the same unit
Measurements: V, A, Hz, PF, W, VA, var, bi-directional kWh
Basic accuracy kW: 2.0% RDG (meter + TCD M unit). kWh: class 1 (IEC62053-21)
Data format: 3-DGT (instantaneous variables)/7-DGT (totalizers)
2 pulse outputs (loads 1 and 2)
RS485 Modbus RTU
CE, cULus approved (ET272 + TCD-M)
---
For further information:
APAC Headquarters - Carlo Gavazzi Automation Singapore Pte Ltd.
61 Tai Seng Avenue #05-06 Print Media Hub @ Paya Lebar iPark Singapore 534167
Tel: +65 67 466 990 Fax: +65 67 461 980 info@carlogavazzi.com.sg www.gavazziautomation.com