18 Sep 2018
How to control humidity in data centres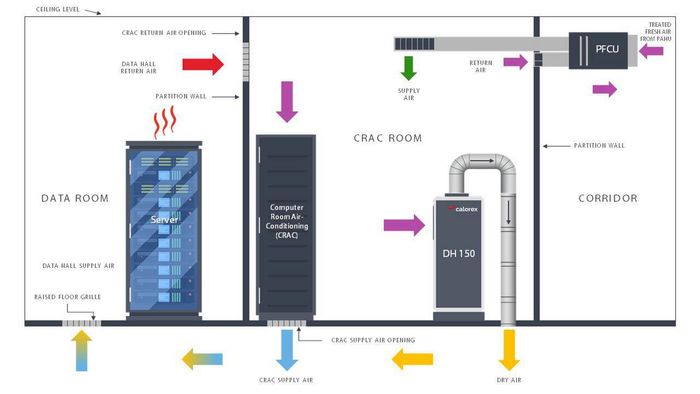 Data centres process and store critical information through equipment that is sensitive to humidity and temperature.
Precise, reliable environmental control equipment is therefore a crucial part of data centre design. Coupled with this, the need to minimize energy consumption and environmental impact as part of data centre design is key.
To achieve energy conservation, designers are constantly looking at how to improve environmental control equipment.
As part of this consideration, modern CRAC units (Computer Room Air Conditioning) are designed with SHR's of up to 100%.
This means the entire duty of the CRAC is designed for sensible cooling, with virtually no contribution towards latent energy removal (moisture). It makes sense to take this approach as the run time of equipment is reduced, which in turn reduces power consumption.
However, humidity control must not be forgotten, and for this reason designers have turned to dehumidifiers for dewpoint and humidity control.
To provide a solution that minimizes power consumption and capital cost, refrigerant dehumidifiers are often chosen as the preferred technology.
With a sensible heat ratio of 60% and typical specific moisture extraction of over 1.5kg/kWh, a refrigerant dehumidifier:
Will remove moisture much more efficiently than a CRAC unit
Has less than half the power consumption of other dehumidification technologies
Is straightforward to install
Has low capital cost
Has minimal heat carry over to the data centre suite
Conclusion
Where data centres are built in climatic regions that experience high air temperatures and moisture contents, an environmental control system that incorporates humidity and temperature control must be considered.
To conserve energy and reduce environmental impact, power consumption of the temperature and humidity control should be considered.
By taking this approach it is prudent to use separate equipment, therefore providing a system design capable of meeting the cost and environmental needs of today's modern data centre.