01 Oct 2019
How to efficiently protect data centre against water leak damages?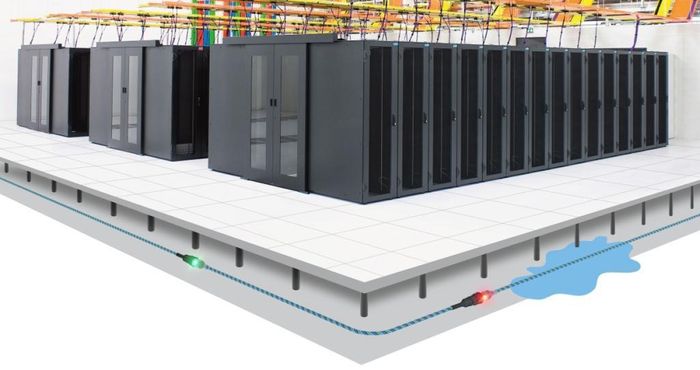 Every year, hundreds of thousands of premises are victims of water damage...
Abstract: TTK, the market-leading manufacturer of liquid leak detection systems for 30 years, offers a range of innovative digital solutions for detecting water leaks in data centers.
A complete TTK system will be installed in real condition in the Live Data Center Of The Future throughout the DCW Singapore 2019 exhibition.
Key words: water leak detection, data centre, security, energetic efficiency
Every year, hundreds of thousands of premises around the world are victims of water damage, and, when it comes to data centres, computer rooms, server rooms or electrical rooms, the consequences can be disastrous. Installing a reliable water leak detection system can greatly decrease risk. Nowadays, the water leak detection system has become an absolute necessity in data centres, trading floors, laboratories, and other mission-critical infrastructure.
TTK, one of the world's leading manufacturers of Water Leak Detection Systems over 30 years, propose unique Addressable Liquid Leak Detection systems.
Limits of analogue-based leak detection systems & benefits of digital-based systems
The analogue-based systems use "passive cables" without electronic components. One detection line is composed of N sections (sense cables) and controlled by only one electronic (monitoring panel). Result: only one measurable value can be obtained. In case of two leaks occurring on the same detection line (can be a complex network of cables running several kilometres), the measurement obtained is an average value of the 2 alarm points, making it impossible to locate the faults accurately. Even worse, it hides the exact number of alarms on the detection line.
The latest digital technology from TTK embeds one electronic component in each sense cable. It measures independently, obtaining as many values as the number of connected sections. The embedded microprocessor continuously monitors the cable status and provides instant, real-time communication to the monitoring panel, allowing unique ability to pin-point faults on every individual sense cable simultaneously.
LSZH materials for all TTK water sense cables
Since the 1st of July 2019, all TTK water sense cables are manufactured exclusively with the low smoke zero halogen (LSZH or LS0H) materials. The TTK's LSZH water sense cable detects and pinpoints the location of water and base liquid leaks at any point along its length. What's more, TTK's LSZH cable jacketing is composed of specially formulated compounds which considerably reduce the amount of toxic and corrosive gas emitted during combustion. When burned, TTK's low-smoke zero halogen cable emits a less optically dense smoke that releases at a lower rate than a non-LSZH cable.
Nowadays, for safety reason, products with LSZH materials are in high demands by engineering consultants. These LSZH materials are to be used in areas with limited ventilation, such as skyscraper, large commercial spaces, laboratories, and underground tunnels of railway & road systems. For all its water leak detection line, TTK is the first manufacturer in the sector to produce LSZH cables as standard.
Efficiently prevent "false alarms" with a unique cable structure
In an environment where condensation and dust are commonly present, water sensing cables are disturbed and as result, they release leak alarms without the presence of water. These are what facility managers commonly call "false alarms".
An ingenious cable structure is capable of helping to prevent this kind of undesirable alarm. Instead of making the two conductive spiraling sensing wires both apparent from the cable surface and be short circuited in case of contact with any conductive particles, hide one of them under the insulating materials, so that the bridge can only be built when the conductive liquid penetrates inside the cable core. This ingenious cable structure – design patented in France as well as in many countries - allows the cable to sense water, but not to be disturbed by the presence of condensation, dust or metal. They can therefore be approximately installed at the risk source or lie flat on a metal tray to ensure very early detection.
Characteristics of a digital monitoring panel
FG-NET panel, the electrical device on which sense cables are connected, delivers alarms in the presence of water, has versatile functions. It is capable of monitoring a mix of water, acid and oil sense cables on one panel. In the event of a leak, it pin-points faults on its integrated interactive maps; drives external devices (for example close concerned solenoid valves); sends instant email alerts to users; reports to the BMS via a JBUS/MODBUS protocol and TCP/IP connection; and remote controls its sub-panels. It has a big system capacity (can monitor up to 500 lengths of sense cables) and meanwhile, settings are adjustable on every individual cable.
This system is installed in real condition in the Live Data Center Of The Future and on our stand at O55 during the DCW.
10-year warranty on all products
TTK products are manufactured in France since the company was founded. In 2018, on the 30th anniversary of the company, TTK offers its customers a 10-year warranty on all products. A first in the industry, which offers between 12 to 18 months warranty usually.
For more information about the warranty, please speak with our representative on the stand or visit our website: http://www.ttkuk.com/about_ttk/10-year-warranty/
About TTK
TTK, one of the world's leading manufacturers of Liquid Leak Detection Systems over 30 years, develops, engineers, manufactures, sells and installs their unique Addressable and Digital Liquid Leak Detection systems.
Digital Leak Detection Systems can help minimize liability, and reduce and mitigate risk, loss and downtime. TTK Detection Systems are designed for: Data Centres, Critical IT Infrastructure, Prestigious Commercial and Residential property, Oil Pipelines, Hydrocarbon and Petrochemical Plants, Bulk Storage and Offshore.
With its headquarters based in Paris and 7 subsidiaries around Europe, Asia, the Middle East and North America, TTK serves over 5500 customers worldwide, with leak detection installations in over 64 countries.
Website: www.ttk.sg
Press Contact:
TTK Pte Ltd
Name: Viviane YU
Tel : +65.6220.2068
Mail: marketing@ttk.sg
Website : www.ttk.sg