03 Oct 2022
Integrated Active power-factor correction in fans minimises circuit feedback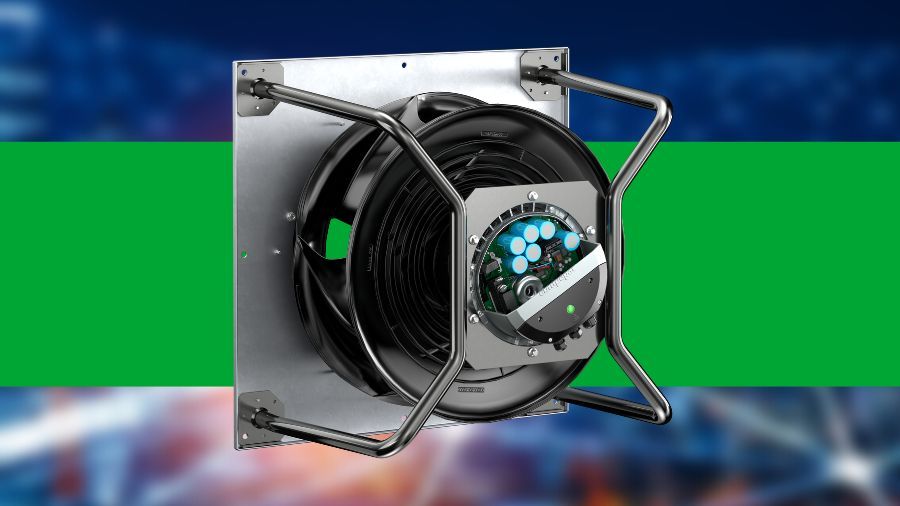 For the first time, GreenIntelligence EC fans with integrated, active power-factor correction (PFC) and a three-phase supply are now able to fulfill the high requirements imposed on data centres with regard to circuit feedback and the harmonic distortion of the input current.
The world badly needs energy-saving solutions; from lighting right through to electrical drive systems. Even simply adapting the speed of drive systems to the actual torque/power requirements saves on unnecessary power consumption. The use of efficient EC motors also taps into additional potential for savings, which benefits the environment and the operator's running costs in equal measure. However, this very welcome development has a catch: The input currents of the new energy-saving devices – which are generally phase-shifted and pulsed as opposed to sinusoidal – incur additional losses in the generators, cables and transformers of the power supply. The reactive power caused by the phase shift and harmonic currents must be made available. This becomes an unwanted cost factor, particularly in such isolated networks as the ones found in data centres. A solution needs to be found for this issue.
Circuit feedback caused by current harmonics
The power supply of a data centre essentially consists of a grid infeed transformer, UPS system and a standby generator. Together, these components must ensure a reliable power supply (through the principle of redundancy). On the other hand, the provision of additional reactive power requires all components involved in the power supply to deliver higher performance. Unnecessary over-dimensioning of this kind is undesirable because of the associated costs.
Harmonic minimisation with 3-phase active PFC fans
EC fans are used on a large scale to ensure that the heat generated in data centers is dissipated efficiently. In order to avoid overdimen¬sioning the power supply and to meet the corresponding require¬ments with regard to current and voltage harmonics, ebm‑papst has developed the 3-phase active PFC fan.
The approach of the 3-phase active PFC fan technology from ebm‑papst is to prevent current harmonics from occurring at all instead of filtering them out afterwards with additional components, which involves a lot of effort.