25 Sep 2018
Kohler Uninterruptible Power Launches the KOHLER PW 9250DPA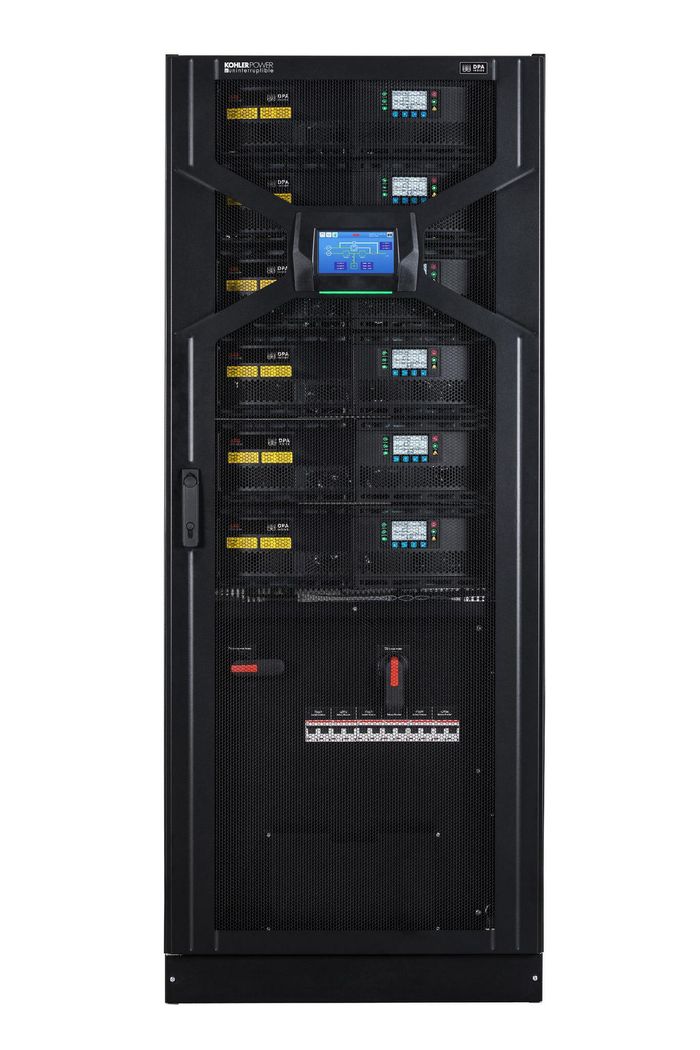 Kohler Uninterruptible Power today launched the Kohler PW 9250DPA – the latest addition to its range of premium, highly efficient modular UPS products.
Designed specifically for medium-sized critical power applications, the Kohler PW 9250DPA boasts the lowest cost of ownership in its class, delivering module and system efficiency above 97 per cent and significantly reducing typical power losses when compared with similar products currently available. The new UPS also supports 'Xtra VFI', which further minimises power consumption by intelligently configuring the number of modules required to support the current critical load requirements.
The new Kohler PW 9250DPA supports the latest in lithium-ion battery technology, and the associated energy storage benefits of longer life, lower cooling costs, faster charge/discharge and smaller space and weight requirement. Peace of mind is also provided through the Kohler PW 9250DPA's ability to connect with Kohler Uninterruptible Power's unique hardware and battery-monitoring software to continuously safeguard your operation from any location. 
Designed with users in mind, the Kohler PW 9250DPA continues Kohler Uninterruptible Power's development of DPA (Decentralised Paralleled Architecture) technology, with 'hot-swappable' modules that can be removed and replaced in minutes, without risking downtime. Front access for cabling provides another benefit, eliminating the need for extra space at the rear.  And, with a physical footprint of just 0.73m2, the Kohler PW 9250DPA offers one of the industry's highest power densities (342 kW/m2), delivering scalable power from 50 kW to 250 (N+1) kW in a single frame, and up to 1.5MW when six units are connected in parallel.
Speaking of the latest addition to Kohler Uninterruptible Power's product portfolio, Tan Yu Ming, General Manager at Kohler Uninterruptible Power, commented: "Offering all the advanced features our customers expect from us and building on our strong history and reputation for modular UPS, the new Kohler PW 9250DPA sets a new benchmark for mid-range power protection in the UK. With its modular design and low TCO, it delivers not only impressive availability but also the best scalability and flexibility in its class, while maintaining a compact footprint. Combine these features with exacting quality and our reputation for service excellence and we believe the Kohler PW 9250DPA will have a real impact on the market."
--ENDS--
About Kohler Global Power Group
A global force in power solutions since 1920, KOHLER is committed to reliable, leading-edge products and comprehensive after-sale support. The company provides complete power systems, including generators (portable, residential, industrial, and marine), automatic transfer switches, switchgear, monitoring controls, and accessories for emergency, prime power and energy-management applications worldwide. For additional information, visit www.KohlerPower.com.
About Kohler Co.
Founded in 1873 and headquartered in Kohler, Wis., Kohler Co. is one of America's oldest and largest privately held companies. With more than 55 manufacturing locations worldwide, Kohler is a global leader in the manufacture of engines and power systems; kitchen and bath products; and owner/operator of two of the world's finest five-star hospitality and golf resort destinations in Kohler and St Andrews, Scotland. For more details, please visit www.Kohler.com.