26 Aug 2021
Quick-fit energy analyser for multiple load monitoring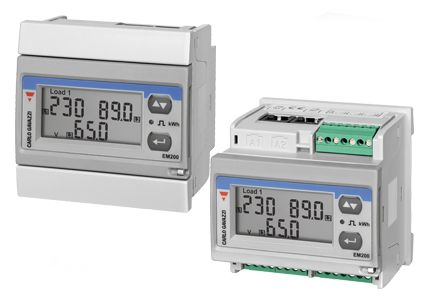 EM280 is a comprehensive 6-channel monitoring system for critical load applications, such as data-centres and hospitals, allowing each load variable, either 1-phase or 3-phase, to be collected in the most compact and effective way. EM280 is competitive and cost-effective and thanks to its innovative features, its compact size and dual mounting capability (DIN-rail and panel mounting) the installation time is greatly speeded-up.
The specific TCD-06BX provides a multiple current transformer solution, allowing the panel builders to connect any single load directly downstream of the relevant circuit breaker.
Common main technical features
EM280:
Fast installation system by means of: detachable dual voltage terminal blocks; Daisy-chain of max 20 EM280 via dual voltage terminal blocks; Detachable serial and pulse output terminal blocks; RJ11 connection for external TCD06BX multiple current transformer block
Virtual sum meter included
2 three-phase loads or 6 single-phase loads in 1 meter
RS485 serial communication port (standard)
RS485 dual port for daisy chain connection (optional)
2 programmable pulsating outputs (optional)
Dimensions: 72x72 mm
Protection degree (front): IP50
TCD06BX multiple current transformer block:
Auto-detection of the primary current value rated by the EM280 energy meter
Equivalent to Class 0.5 (current) of EN60044-1 (TCD06BX current sensors only)
Primary current: 32A
Hole size: 7 mm
Hole centre distance: 17.5 mm
RJ11 cable length: 80, 150 or 200 cm
Accessories included for wall mounting
---
For further information:
APAC Headquarters - Carlo Gavazzi Automation Singapore Pte Ltd.
61 Tai Seng Avenue #05-06 Print Media Hub @ Paya Lebar iPark Singapore 534167
Tel: +65 67 466 990 Fax: +65 67 461 980 info@carlogavazzi.com.sg www.gavazziautomation.com