Saft lithium-ion batteries to power Total's data center in Singapore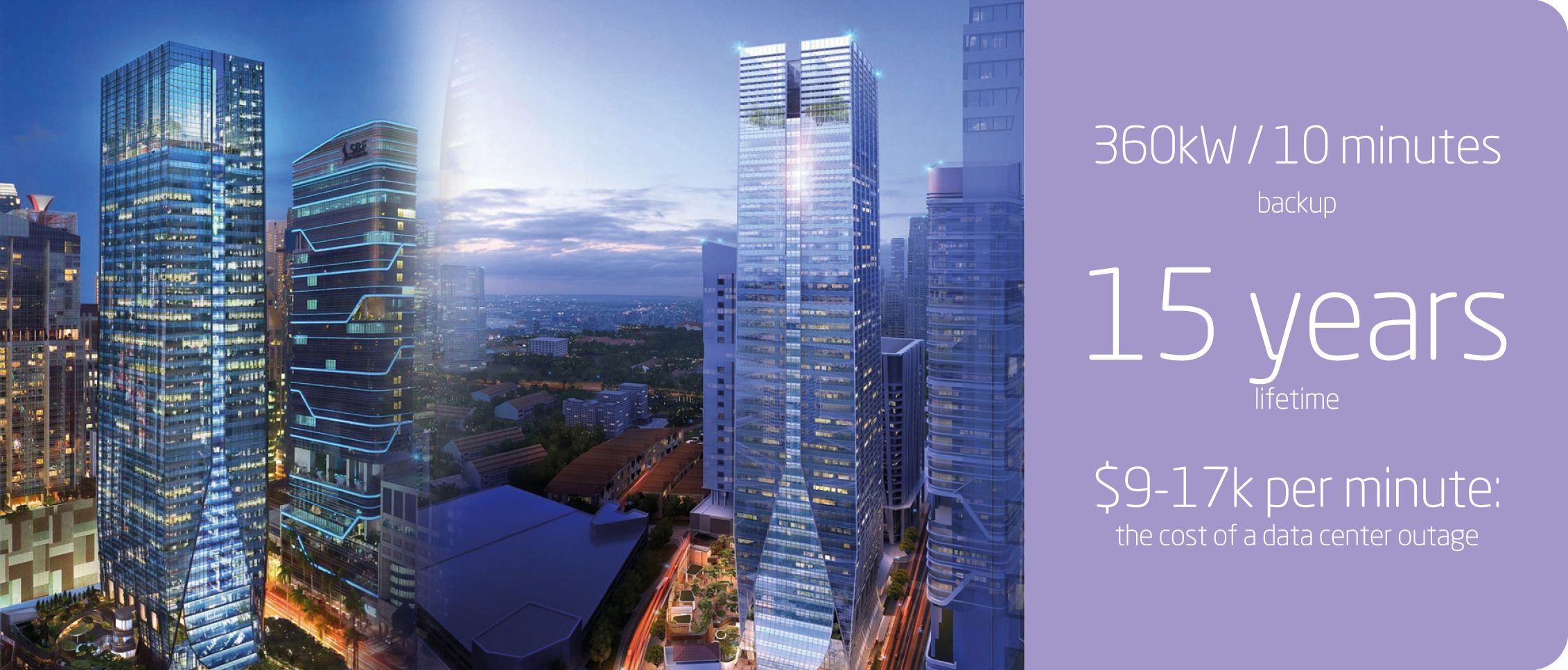 Energy operator Total has selected Saft to supply its Flex'ion battery systems in their new country headquarters in Singapore's central business district, to ensure sufficient backup power for the data center.
Total's new office, situated in Frasers Tower in Singapore, will accommodate important business functions and corporate trading activities that require constantly available power and enhanced monitoring capabilities. Furthermore, as space is at a premium in the Grade A building, minimal space was available for the battery installation.
Based on these requirements, Total selected a turnkey solution that will integrate the Saft Flex'ion battery systems with Socomec's Modulys Uninterruptible Power Supply (UPS) system. Both components are modular and energy efficient so that the UPS can be scaled to meet additional power and energy requirements over time.
Saft will supply two Flex'ion 60 kVA and 120 kVA Li-ion battery systems. Both are designed to provide 10 minutes of backup time to maintain power for trading activities until the building's backup generator powers up. The Li-ion battery systems also feature smart monitoring capability so that the company's IT managers can monitor and analyze the condition of critical equipment.
A major advantage is that Flex'ion's electronic battery management can be integrated with control and management systems, such as building management systems (BMS) and supervisory control and data acquisition (SCADA) systems.
François Danet, Saft's global business development manager for data centers stated: "This project positions Saft as a reputable Li-ion battery provider for the critical oil and gas trading platforms around the world now and in the coming years. It also shows the successful interface between Saft's Flex'ion battery technology and UPS systems to fulfill data center market challenges."
Based on Li-ion technology, Flex'ion batteries combine high energy density and a compact size to offer a long calendar life, inherently safe electrochemistry and construction, high reliability and availability. To minimize total cost of ownsership the Li-ion batteries can operate at elevated temperatures, which reduces the requirement for cooling and, therefore, energy consumption.
Saft will design, manufacture, supply, install and commission the Li-ion battery system.
10.08.2019 - Power Engineering International