12 Sep 2018
Server Technology's HDOT Cx Future-Proofs Data Center PDU Investments with Flexible, High-Density Data Center Power Distribution Systems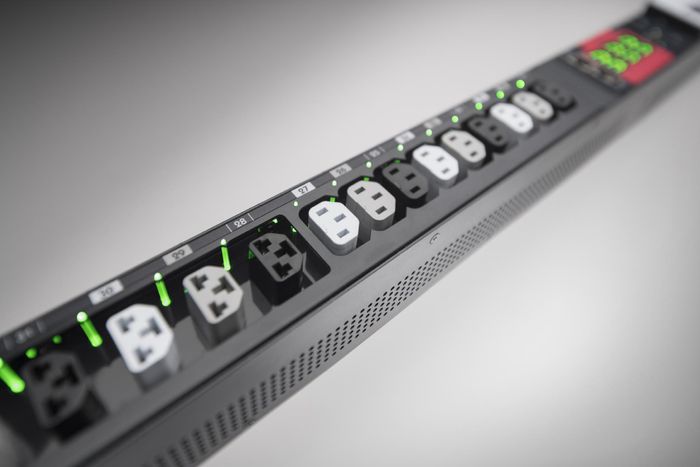 Server Technology's HDOT Cx Future-Proofs Data Center PDU Investments with Flexible, High-Density Data Center Power Distribution Systems
Reno, Nevada – September 12th, 2018 - Server Technology, a brand of Legrand and a leading provider of intelligent rack power distribution units (PDU's), today unveiled its HDOT Cx. The new data center PDU represents a groundbreaking advancement in rack mount power strips by allowing the outlet to easily conform to any combination of hardware power configuration needs. The HDOT Cx reduces the need for data center managers to constantly purchase new PDUs to support the ever-changing power requirements of expanding data centers.
As data centers continue to expand, new hardware devices are constantly added to rack-mounted server bays in support of new applications or additional processing abilities. The changing hardware prompts new power configurations and the never-ending cycle of purchasing data center PDUs. Server Technology's HDOT Cx breaks this cycle with a flexible, rack mounted PDU outlet combination to suit any server rack need.
According to Travis Irons, Director of Engineering at Server Technology, "For the data center manager, a key consideration in choosing a data center PDU which meets the current and future server rack needs, is the number of C13 and C19 outlets that are provided with the unit. HDOT Cx simplifies the decision of what C13/C19 combinations are needed because Cx outlets are both. Data center managers can now take advantage of flexible data center power distribution units and not worry about buying a new unit due to constant equipment refreshes."
The Cx rack-mounted PDU is UL tested for combination C13 and C19 outlets. All HDOT Cx modules utilize Cx outlets that can accommodate either a C14 or C20 power cable without the need for additional parts or adapters. The complete line of Server Technology's Smart, Switched, and POPS PDUs can now be configured with versatile HDOT Cx modules. PDUs equipped with HDOT Cx outlets lengthen the PDU life span, reduce the number of PDU SKUs required and provide the peace-of-mind that they can support any new hardware configurations thrown their way.
"For Legrand, the continued success of HDOT was a clear indication that Server Technology understood how to encourage innovation. Designs like HDOT only occur when team members are free to conceptualize without restraint," said Douglas Fikse, President of Datacenter Power and Control, Legrand North America. "This is precisely why Legrand acquired Server Technology last November. There is something special happening there that cannot be replicated easily. It is no surprise the Server Technology team conceived a design that advances an already successful product with the release of HDOT Cx."
Build-Your-Own website: byopdu.servertech.com, and it ships within 10 days.
About Server Technology
Server Technology's power strategy experts are trusted to provide Rack PDU solutions for demanding data centers worldwide ranging from small technology startups to Fortune 100 powerhouses. Over 60,000 customers around the world rely on our rack power distribution units and award winning remote power management solutions to increase density, facilitate capacity planning, improve power monitoring, and drive efficiency. Because power is all we do, you will find us in the best cloud and co-location providers, forward thinking labs and telecommunications operations. Server Technology customers consistently rank us as providing the highest quality PDU's, the best customer support and most valuable innovation. Let us show you; we have over 12,000 PDU configurations to fit every data center need and 90% of our PDU's are shipped within 10 days. Only with Server Technology will customers Stay Powered, Be Supported and Get Ahead. www.servertech.com
About Legrand and Legrand, North and Central America
Legrand is a global specialist in electrical and digital building infrastructures. Its comprehensive offering of solutions for use in commercial, industrial, and residential markets makes it a benchmark for customers worldwide. Innovation for a steady flow of new products with high added value is a prime vector for growth, including, in particular, connected devices stemming from Legrand's global Eliot (Electricity and IoT) program. Legrand reported sales of $6.2 billion(USD) in 2017. Legrand has a strong presence in North and Central America, with a portfolio of well-known market brands and product lines that includes AFCO Systems, C2G, Cablofil, Chief, Da-Lite, Electrorack, Finelite, Luxul, Middle Atlantic Products, Milestone AV, Nuvo, OCL, On-Q, Ortronics, Pass & Seymour, Pinnacle, Projecta, QMotion, Quiktron, Raritan, Sanus, Server Technology, Solarfective, Vaddio, Vantage, Wattstopper, and Wiremold. Legrand is listed on Euronext Paris and is a component stock of indexes including the CAC40, FTSE4Good, MSCI World, ASPI, Corporate Oekom Rating, and DJSI (ISIN code FR0010307819). www.legrand.us
###
For more information, contact:
Server Technology
Betsey Rogers
Public Relations
BridgeView Marketing
1-603-821-0809
betsey@bridgeviewmarketing.com