14 Sep 2023
Sticklers™ Showcases a Revolutionary Touchless Cleaner at Data Centre World 2023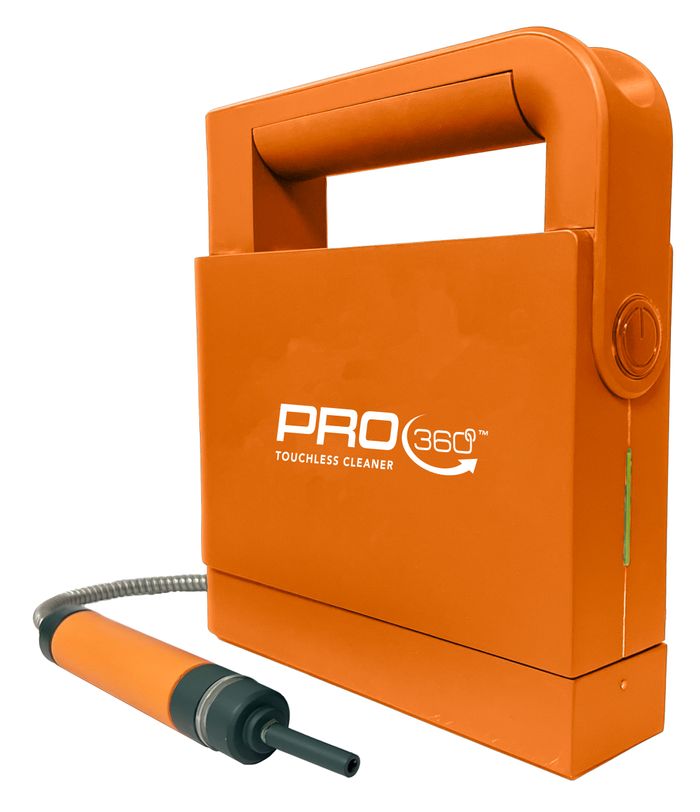 Sticklers™ Fibre Optic Cleaning Products will present the groundbreaking Pro360™ Touchless Cleaner at Data Centre World 2023, from 11-12 October 2023, in Singapore. Revolutionizing fibre optic installation and maintenance practices, the Pro360™ sets a new industry standard with its innovative touchless technology, delivering unparalleled cleaning results.
The Pro360™ Touchless Cleaner removes oils and dust all the way to the ferrule edge of both male and female connector ends, leaving no contamination to migrate into the contact zone and block the optical signal. Its Coanda spray nozzle dispenses a micro-dose of atomized, high-purity cleaning fluid within a narrow column of pressurized air onto the fibre optic connector end face. The microscopic contamination is effectively removed with the cleaning fluid as it quickly evaporates, providing fast and effective end face cleaning at the lowest cost per clean.
Emma Chen, Sticklers™ Asia Regional Sales Manager, expressed, "The Pro360™ Touchless Cleaner has garnered substantial attention from the fibre optic industry. We are pleased to showcase this groundbreaking product at Data Centre World 2023, providing attendees with a firsthand demonstration of its remarkable capabilities and how it can significantly enhance cleaning speed and effectiveness for technicians across diverse applications."
The Sticklers™ Pro360™ Touchless Cleaner addresses the crucial need for effective cleaning to ensure optimal data speeds and reliability in fibre networks. Compact and portable, the Sticklers™ Pro360™ Touchless Cleaner can be either line or battery powered for use in various applications indoors or out, including FTTH, FTTA, and data centres.
A key advantage of the Sticklers™ Pro360™ Touchless Cleaner is its cleaning fluid. Each cleaning fluid canister provides 2,000+ contactless cleanings. The high-purity fluid is classified as non-hazardous and complies with regulations for transport via sea, ground, and air. Additionally, the compact cleaning fluid canister, holding less than three fluid ounces, is approved for carrying onboard in handheld luggage.
The Sticklers™ Pro360™ Touchless Cleaner currently includes adapters for cleaning 1.25mm and 2.5mm connectors. However, Sticklers™ plans to expand its offering with an MPO and other size adapters in the future.
Visit Sticklers™ at stand U100, Data Centre World 2023, from 11-12 October 2023, at the Marina Bay Sands in Singapore to learn more about the Pro360™ Touchless Cleaner and the Sticklers™ extensive portfolio of fiber cleaning products.
www.sticklerscleaners.com
ENDS
Editor's Notes:
Fast-growing MicroCare, LLC is a global company based in New Britain, CT. Since 1983 it has been the leading manufacturer of environmentally progressive fluids and tools used for critical cleaning. These products are supplied to industries as diverse as telecommunications, electronics, metal finishing, transportation, medical device manufacturing, and medical/dental infection prevention. MicroCare also features a team of chemists and technical engineers to help companies use these fluids properly, safely, and most economically.
MicroCare has an ISO 9001:2015 registered quality system and is continually improving and expanding its range of products with full R&D labs located in Connecticut and Colorado. MicroCare has manufacturing facilities and global logistics centres in Connecticut and Colorado in addition to facilities in the UK and Singapore. MicroCare products include the Sticklers™ fibre optic cleaners, MicroCare™ cleaning fluids, MicroCare Medical™ lubricating fluids and ACID Magic™ water treatments among its brands.
For all media enquiries contact Sally Stone, sally@hartmarketing.com.