14 Jul 2023
TRAN VU TRADING CO., LTD. as First Vietnam Distributor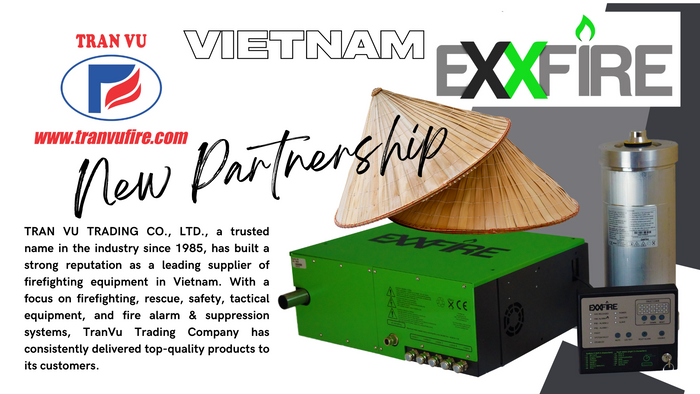 We are delighted to share an exciting milestone in Exxfire Singapore's journey as we announce our partnership with TRAN VU TRADING CO., LTD., marking our entry into the vibrant Vietnamese market. This collaboration signifies a significant step forward in revolutionizing fire protection and safety standards. With TRAN VU TRADING CO., LTD.'s esteemed reputation as a trusted supplier of firefighting equipment since 1985 and Exxfire's innovative fire detection and suppression solutions, businesses in Vietnam can now benefit from cutting-edge technology that guarantees unmatched fire protection.
TRAN VU TRADING CO., LTD.'s commitment to delivering top-quality products has made them a leader in the industry. By incorporating Exxfire's state-of-the-art technology into their offerings, they are further enhancing their portfolio and providing businesses in Vietnam with unparalleled fire detection and suppression solutions.
Exxfire's flagship product, an Aspirating Fire Detection system combined with non-pressurized nitrogen fire suppression, stands at the forefront of fire protection for critical equipment housed in closed server racks and electrical cabinets. This revolutionary solution ensures optimal fire safety protocols, contributing to higher business continuity and reduced downtime in the event of a fire.
The EXXFIRE system offers a host of advantages that set it apart in the realm of fire suppression for IT and electrical equipment. Its flexible design enables easy installation inside or on top of cabinets, ensuring versatility and convenience. Moreover, the system employs nitrogen as a fire suppressant, providing exceptional environmental benefits. With no ozone depletion, no global warming potential, and no corrosive residues, Exxfire's solution is both eco-friendly and aligned with sustainable practices.
This partnership between Exxfire Singapore and TRAN VU TRADING CO., LTD. is poised to transform the fire protection landscape in Vietnam. Together, we are committed to setting new safety standards and supporting businesses in safeguarding their critical assets.
For more information about Exxfire and its cutting-edge fire detection and suppression solutions, please visit our website www.Exxfire.com or contact our team on this email info@exxfire.com.
About Exxfire Singapore: Exxfire is a leading provider of innovative fire detection and suppression systems. We are dedicated to leveraging advanced technology and sustainable solutions to protect critical assets and ensure business continuity in the face of fire emergencies.