27 Sep 2019
UWP 3.0: The Universal Web Platform for Energy Savings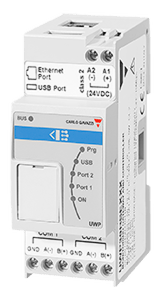 Savings can be achieved only if data can be automatically converted into actions
UWP 3.0 as the core of the Carlo Gavazzi Energy saving system would benefit of: architecture simplicity, short commissioning time, cost reductions, error proof configuration, expandability and scalability. The UWP 3.0 platform with full functionalities meets today's Energy Managers and Energy Service Companies requirements to achieve energy efficiency goals evolving from pure monitoring to the active control. The active control performed by UWP 3.0 is the capability to act, at a first level, directly and automatically on the loads but also as a second level to integrate into other management systems.
The UWP 3.0 platform is a cost-effective solution providing also:
data management from meters and other sensors and probes;
data analysis;
lighting control benefits by means of the DALI bus;
integration to existing BMS' by means of the BACnet communication protocol;
a twisted pair, noise immune, free topology "field bus", capable to power supply sensors and I/Os;
a wireless communication bus to manage energy metering, sensors, I/Os and lighting control;
a fire dumper control solution;
a modern indoor car-park or multi-storey garage guidance system.