26 Aug 2021
WM50: the new compact branch circuit monitoring solution for data centres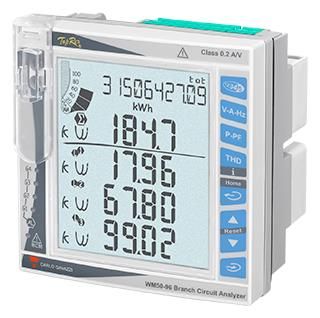 When the electrical system is different from a bus-bar trunking or bus-duct system and feeding of numerous loads is based on a PDU Power Distribution Unit, then WM50-96 is the ideal solution for branch circuit monitoring. The solution is based on one core unit WM50 which is usually installed and connected on the mains for main metering and some TCD12 units as combined sub-meters installed downstream the MCBs for single phase or three-phase loads. As the whole installation cost is not only given by the components cost but even more by installation and commissioning costs, this innovative solution allows you to achieve more than 75% installation savings vs. a regular solution. WM50 with its up to 96 submeters, which means up to eight 12-channel split-core current transformer TCD blocks, is also suitable to retrofit existing installations. To further reduce the TCO (total cost of ownership) also the configuration and commissioning time of "WM50 solution" can be significantly reduced by using OptoProg, the optical port coupling unit with rechargeable battery, provided with both USB and Bluetooth communication capabilities to be used in combination with either UCS the laptop configuration and diagnostics platform or the UCS Mobile, the configuration and diagnostics App for Android smart phones.
WM50, main metering solution for distribution boards:
96 x 96 mm panel mounting meter with IP65, NEMA4X/12 front protection degree and modular housing
Up to 480 VLL ac and 5A CT measuring inputs
Single and three-phase measurements: V, A, An, Hz, PF, W, VA, var, run-hour, kvarh, bi-directional kWh (cl. 0.5S EN62053-22), THD analysis up to 31st harmonics, single harmonics via Modbus
Basic accuracy 0.2% RDG (V/A)
9+1-DGT totalized variables LCD display
Optical port for fast data reading and configuration
Universal power supply (90 to 260Vac/dc)
4-tariff management
16-alarm PLC logic and digital inputs for utility metering, built-in event and data stamping for instantaneous variables
cULus approved
WM50, I/O optional modules:
RS232/RS485
Ethernet (Modbus TCP)
6-channel digital inputs, up to 4-relay/6-static outputs + OR/AND alarm logic management
Direct An + Temperature + Process signal measurements
TCD12, sub metering:
Primary: 12*65A
Hole size (mm): 8.5
Centre-to-centre distance (mm): 17.5mm
RJ cable length (cm): 30 to 500
12-channel split-core current sensing unit
Accuracy Class 2 (kWh) according to EN62053-21 (meter + TCD unit)
Up to 96 channels: kWh, W, var, VA, PF, A, THD A
Data available via communication module
---
For further information:
APAC Headquarters - Carlo Gavazzi Automation Singapore Pte Ltd.
61 Tai Seng Avenue #05-06 Print Media Hub @ Paya Lebar iPark Singapore 534167
Tel: +65 67 466 990 Fax: +65 67 461 980 info@carlogavazzi.com.sg www.gavazziautomation.com