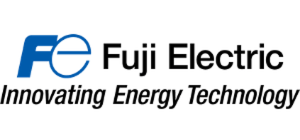 Fuji Electric. The global leader with more than 90 years of accumulated technology and experience in electronics manufacturing energy management and automation develops connected technologies and solutions to manage energy and processes in ways that are safe, reliable, efficient and sustainable. Through our pursuit of innovation in electric and thermal energy technology, we developed products that maximize energy efficiency and lead to a responsible and sustainable society.
Fuji Electric core business units are divided into 5 segments: Power & New Energy, Power Electronic Energy Solutions, Power Electronic Industry Solutions, Electronic Devices, Food & Beverage Distributions.
Fuji Electric combines LoT and control technologies with components using key devices to supply a wide range of solutions required by industries and society in fields spanning from social infrastructure to industrial distribution.
Address
Fuji Electric Co., Ltd
Gate City Osaki East Tower 14F 141-0032
TOKYO
Japan
1-11-2
Japan