Kidde Fire Systems
Stand: T124
| Consultancy
| Data Centre Infrastructure Management
| Fire Prevention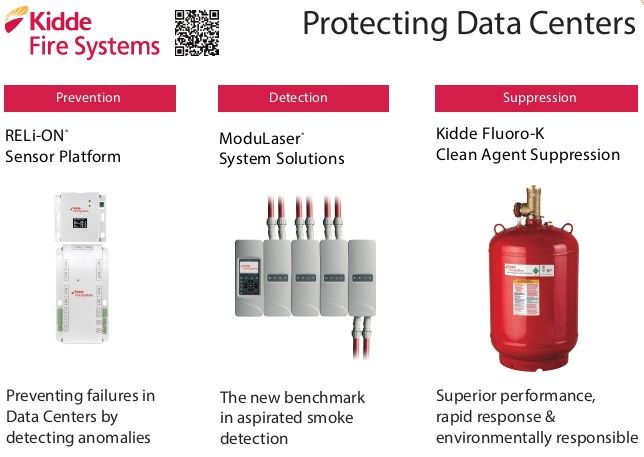 Kidde Fire Systems is a world leader in special hazard fire protection system solutions. We are a part of Industrial Fire Products & Solutions unit of Carrier Group of Companies. Our products save people and property from the dangers of fire.
Founded by Walter Kidde in 1917, our broad product offering and design expertise have been protecting assets worldwide for over 100 years. Our products, combined with our highly skilled worldwide installation and service network, allow us to provide our customers with a total system solution.
Today, Kidde Fire Systems incorporates the legacy brands Chemetron Fire Systems and Fenwal Protection Systems. Operating as One Carrier Company, Kidde Fire Systems offers its customers important competitive advantages with our comprehensive range of proven fire protection technologies for the diverse needs of commercial and industrial facilities. Our portfolio of products includes one of the largest suppression agent portfolios in the industry, a full line of detection and suppression control products, as well as a variety of ancillary products.
From power generation plants to mission critical facilities to mining vehicles… it's likely that Kidde Fire Systems' products are on the job. Our customers trust us for protection from everyday fire hazards because we are experts in our field. That trust is reinforced by the quality we instill in everything we do, from manufacturing fire and safety systems to providing system design and technical support.
Kidde Fire Systems is the Smart Choice when early fire detection and suppression needs are especially demanding.
Browse our site to learn more about how Kidde Fire Systems can help provide you peace of mind.
Address
Kidde Fire Systems
400 Main Street Ashland, MA 01721 USA
01721
United States