Robotina
Stand: O54
Data Centre Infrastructure Management
Energy Efficiency
Facilities Management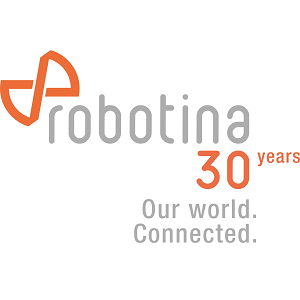 30 years of experience in high-tech and niche solutions for advanced energy management.
The latest hit solution exhibit at Data World Center in Singapore is an advanced Battery Management and Monitoring System that assures data centers and other critical infrastructure the highest standards of business continuity.
Safety, efficiency and cost saving, guaranteed!
About the Company:
Robotina started as system integrator in industrial automation, and we used industrial PLC of known brands. Flexibility and connectivity of such products could not satisfy our needs and we developed our firs controller. Now we are at third generation of CYBRO controllers with consistent characteristics and advantages: flexible, easy to program and connect and above all: reliable. By connecting controllers to the Cloud, we created powerful and yet simple vertical IoT backbone.
Electric energy drives our World. Existing grids are old and old fashioned, and the existing solutions cannot cope with growing requirements imposed by electric cars and distributed renewable energy sources (PV plants, wind generators).
The only solution is turning consumers into prosumers and connect them to the cooperation platform, which enables proper demand modelling and balancing. XEMS is a solution, with local controllers and platform, which create a communicating, cooperating ecosystem, saves up to 30% of electricity cost, increases capacity and reduces requirement for investment in hardware. With $400 trillion market size in electricity, 30% means a lot.
Address
Robotina d.o.o.
38 OIC- Hrpelje
Kozina
6240
Slovenia