19 Jul 2023
Data Centre World Asia and IDCNOVA Partner to Boost Opportunities for Chinese Data Centre Companies in Southeast Asia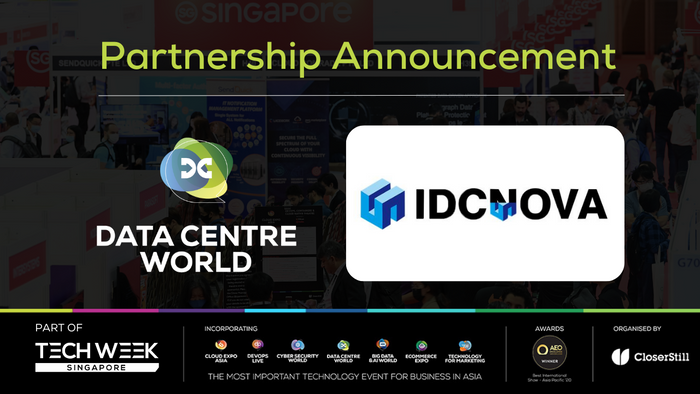 Singapore [19 July 2023] - Data Centre World Asia, one of the largest events for the data centre industry in Asia, has partnered with IDCNOVA, a professional industrial media and event organiser based in Beijing, China.
The partnership aims to help deliver opportunities for Chinese data centre companies to expand their reach into the rapidly growing Southeast Asian market and facilitate growth across the region.
Through this partnership, Data centre companies in China will be invited to engage with industry professionals and build business partnerships in the Southeast Asia region by attending Data Centre World Asia in Singapore. IDCNOVA will formally extend this invitation to its vast network of local associations and trade organisations in China.
"Southeast Asia is an incredibly dynamic region with significant growth potential for Chinese data centre companies," said Luke Lubega, Event Director of Data Centre World Asia.
Data Centre World Asia will celebrate its ninth edition in Singapore on 11-12 October 2023 at Marina Bay Sands Convention Center. The event is proudly sponsored by leading international companies including, Mitsubishi, Siemens, Eaton Electric, Rolls Royce, Daikin, and Caterpillar.
"We are delighted to collaborate with IDCNOVA to provide a platform for Chinese companies to achieve success by connecting with the top data centre stakeholders at Data Centre World Asia," added Luke Lubega.
Data Centre World Asia has more than 10-years history supporting Chinese companies. Currently there are more than 30 Chinese exhibitors confirmed to attend this year's event, including Chint, Envicool, Shuangdeng, Top Electric, and Huasu. There will also be a Zhejiang Provincial Pavilion this year.
"The Chinese data centre market has experienced remarkable growth in recent years. We are proud to partner with Data Centre World Asia to help drive continued success for our industry," said LIU Yuan, Vice President of Zhongke Zhidao (Beijing) Technology Inc "This collaboration will foster growth and innovation. We look forward to the positive impact this partnership will have on the Chinese data centre market."
China's thriving data centre market
China's data centre market is constantly growing, with several new data centre developments earmarked by the Ministry of Industry and Information Technology within the 'Eastern Data, Western Computing' plan. According to Arizton, the Internet data centre market in China is expected to be valued at $34.03 billion by 2028, with a CAGR of 2.69% between 2022 and 2028.
In recent months, two investment funds in Singapore have announced commitments to invest in China. The CapitaLand China Data Centre Partners (CDCP) will invest $389.6 million in two hyperscale data centre developments in the Greater Beijing area, while Singapore's Keppel Data Centre Fund II LP entered into a strategic partnership with Heying to develop a greenfield data centre in Beijing worth $218.9 million.
Opportunities for Chinese companies in Southeast Asia
Valued at $12.3 billion and considered one of the fastest-growing markets in the world, Southeast Asia presents many expansion and investment opportunities for companies in China.
Several Chinese companies have already expanded into the region, with investments in Indonesia, Malaysia, the Philippines, Singapore, and Thailand. Examples include Huawei's partnerships with Aesler and PlanetComm, China Mobile International's data centre agreement with Indonesia's NeutraDC, Tencent Cloud's recent developments in Indonesia and Thailand, Shanghai DC-Science's new $600 million data centre facility in Malaysia, and a new 168MW data centre planned by GDS in Malaysia.
"The partnership between Data Centre World Asia and IDCNOVA will create new opportunities for Chinese data centre companies looking to expand their reach into the Southeast Asian market," said LIU Yuan, Vice President of Zhongke Zhidao (Beijing) Technology Inc. "Events like IDCC and Data Centre World Asia strengthen ties between the Chinese and Southeast Asian data centre sectors and pave the way for more business success in both regions."
For more information about Data Centre World Asia, visit www.datacentreworldasia.com. To learn more about IDCNOVA and the China Internet Data Center Conference, visit www.idcquan.com.
About Data Centre World Asia
Data Centre World Asia is one of the largest gatherings of data centre professionals in Asia, attracting thousands of attendees from across the region. The event is part of Tech Week Singapore, which is organised by CloserStill Media.
Taking place on 11-12 October 2023 at Marina Bay Sands, Singapore, Data Centre World Asia addresses the latest trends, challenges, and opportunities in the fast-evolving data centre industry. Attendees enjoy an immersive experience, equipping them with the knowledge, insights, and connections they need to stay ahead of the curve in this dynamic field.
The event features over 200 leading data centre suppliers exhibiting their latest products and services, as well as hundreds of industry experts sharing leading insights during the conference.
Register your interest to exhibit at www.datacentreworldasia.com/why-exhibit/exhibit-now
About IDCNOVA
Headquartered in Beijing, China, IDCNOVA is the International brand for Zhongke Zhidao (Beijing) Technology Inc. The company provides media and research consulting services for data center and digital economy fields. The media brand was founded in 2006, which is an authoritative data center and cloud computing industry media platform in China. Relying on new media communication platforms, conferences, industry exhibitions and other forms, it provides information, industry communication, brand promotion and other one-stop online and offline media services. We are actively promoting industrial exchanges and new ecological construction in the fields of Internet, data centers and cloud computing in China. The consulting research department was established in 2014 and is a professional research and consulting organization in the emerging digital field in China. Relying on more than ten years of historical data accumulation in the industry and combined with the upstream and downstream communication channels of the most competitive industries, it regularly publishes industry authoritative data and market research reports to provide our clients with services such as market research, strategic consulting, technology assessment and certification in the field of data center, cloud computing, big data, artificial intelligence and other vertical segment industry.
For more information about IDCNOVA, please visit the following website:
IDCNOVA: www.idcnova.com Digital Infrastructure Global Buyer Platform: www.cloudpop.cn
China IDC Quan Wechat Official Account: idc-quan
Media Contacts
Data Centre World Asia: Stuart Crowley, Global Content & Editorial Manager, +44 7818 070 529, s.crowley@closerstillmedia.com
IDCNOVA: Shuangyi LI (Yoyo), Project Manager, +86 (10) 5166 8499, pm.s@idcnova.com